Career in Full Stack Development
Choosing a career in the tech sector can be tricky. One wouldn't want to choose something that's getting obsolete. One would want to find a career option that's in demand and will remain in demand for the coming years. With so many options available, figuring out which one to choose can also is overwhelming.
Full-stack development is one of the milestones in the field of advanced technology. It's also the most demanding professionals around the world. In the past 1 year, there has been an increase of over 30% of jobs for full-stack developers in India. In this blog, one is going to learn the demand and scope of the field.
Growth and demand for full-stack developers:
A full-stack developer's career is the most demanding and fulfilling one. It involves a combination of work at the front-end and back-end website applications. It's a key role in any tech-savvy organization. Due to the growing number of online platforms and digitally driven businesses, the demand for full-stack developers has been on the rise in recent years. Thus, as long as one has the need for developing website applications, the demand for full-stack web developers will remain high.
Salary for a full-stack developer:
How much does a full-stack developer make per year? One will be glad to know that full-stack development jobs are considered one of the highest paying jobs in India. This is primarily because of its demand and the lack of skilled professionals in this domain.
7 reasons why the future of a full-stack developer is great?
Fewer resources for a company
A full-stack developer is not only an expert in front-end and back-end development. Full-stack developers can play the role of mean-stack developers. They are required to be technically sound in all aspects of technology and development.
Companies prefer generalists or specialists
Due to their diverse knowledge and skill sets, full-stack developers are highly competent in multi-tasking; hence they are preferred more over other types of developers. Their ability to juggle multiple projects and manage everything single-handedly makes them exceptionally demanding and outgoing.
Quality of web applications
Because of the small team size, there's not much confusion or delay in developing web applications. A full-stack developer in a team can manage an entire project from the beginning to the finishing line.
Diverse job opportunities
Needless to say, full-stack developers have diverse opportunities waiting across the world. Because one can do several hats, full-stack developers are in demand also as software developers and software managers.
Flexibility
Full-stack developers can quickly adapt to any situation that may arise in a team, for example, replacing a team member, adapting to changing requirements for a product, applying extensive knowledge to develop a product, etc.
Top-notch companies hire them
Companies like Facebook, Google, and Microsoft hire a lot of full-stack developers. Other high-profile companies include IBM, Cognizant, Infosys, and so on.
Freelance opportunities
With an increasing number of businesses relying on developers for a swift transition to the digital landscape, full-stack developers do not face any shortage of job opportunities. Likewise, they aren't left empty-handed when it comes to freelancing.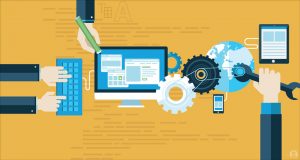 Conclusion:
A full-stack developer is an invaluable asset to any company that specializes in technology and development. With rapid advancements in software products and the demand for fast-paced technology, this profession is here to stay!