Data Scientists – An increasing demand in Job Opportunities
Introduction
According to Harvard Business Review, data scientists is one of the high-ranking professional roles who deal with the discoveries and handling the Big Data. So, here is the article to understand the job opportunities, domains, tips to get into industry. This blog will touch on key points related to both freshers' as well the experienced professionals.
First let's understand why Data Science is in huge demand!!
Most of the organizations are getting into big data and now realize the importance of data, thus most of them are concentrating on data-driven insights. While the requirement for the role is constantly increasing, the skilled resources are limited.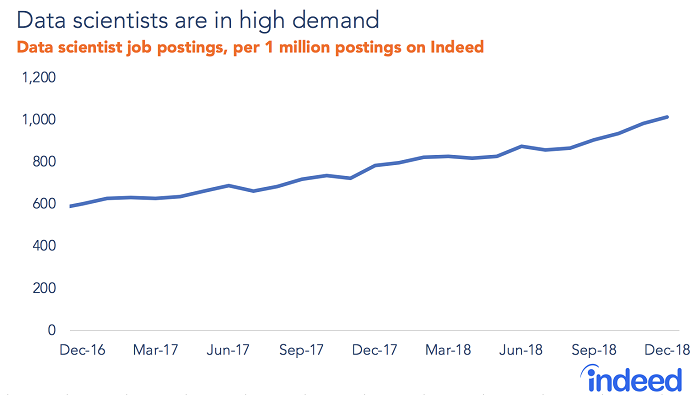 As per the statistical survey by Indeed jobs, the demand for data scientists is constantly growing and it is expected to continue so in coming years as well.
Various domains:
Let's look at the few domains where data science job opportunities are prevailing.
E-Commerce: Being one of the highest data generative domain, E-commerce companies have efficiently utilized data science to achieve higher rate of customer satisfaction. Understanding customer pattern, targeting customers based on their purchase history, determine demand and supply, determine traffic for product are few among the applications of data science in this field.
Aviation: Considering civil aviation, where the entire operation of flight starting from customer ticket pricing till flight management data science plays crucial role. Coming to the Defence aviation, where data plays extremely important role, managing the defence systems, working with critical data, etc contributes to the importance of data science in this domain.
Transportation: Any transport system, be it goods supply or public transport system, generate huge data on daily basis. Most of the leading transportation management companies rely on Data science to enhance their security, customer satisfaction, understand patterns, etc.
There are many domains which use data as powerful tool to build their market hold.
Salaries
When it comes to the compensation, no doubt data scientists are paid way higher than other software engineers.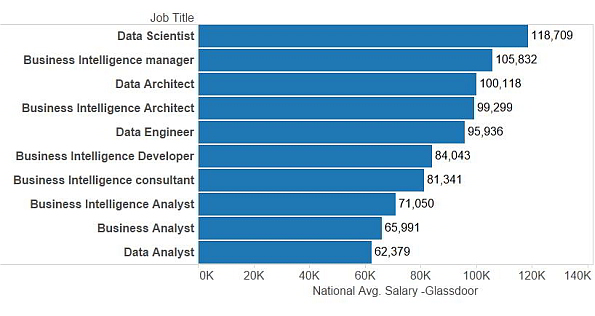 As per the Glassdoor survey, the national average salary of a data scientist is about $118,709. The average salary for data scientists in India is about 10LPA, which is almost double the salary of a software developer. With experience the salary increase can be expected to grow rapidly.
Job portals:
Here are few job portals to consider to apply for data science related jobs.
LinkedIn
Naukri
Glassdoor
Indeed
TimesJobs
Analyticsindiajobs
AngelList
Experienced Vs Entry-level
When it comes to the job opportunities for freshers, the data scientists jobs may be comparatively lower in numbers, as to be a data scientist experience is a key factor. For freshers, the best way to get into industry is to apply for the positions such as Data Analysts, Junior Data scientist, Data science interns, AI engineer, etc. The salary paid is higher than the entry level package for other roles (depending upon the company).
For professionals with experience in Data science field can expect very large number of openings waiting for them for the roles including Data Scientist, Senior data scientist, Data solution architect, etc. As the experience in the field grows, even the demand and the compensation increase significantly.
Tips for clearing interview
Here are few tips which could help you for interviews.
Be thorough with all the concepts which include Maths, Python, Machine learning, Deep Learning, NLP, Computer Vision.
Make sure to work with variety of datasets. (Preferably choose datasets of different domains)
Understand how each algorithm works (Especially the mathematics behind each algorithm).
Presentations (Prepare yourselves and practice to present as if you are giving an interview).
Upload all your work to GitHub.
Keep your resume, LinkedIn, job portal profiles updated.
Attend webinars, data science meetups and build connections.