Is Full Stack development a good career?
Everyone in online these days, which in turn has caused an increased demand for new courses like full-stack, web applications. These apps don't write themselves. So, one needs more web applications to fulfill the demand. Full-stack developers are the most versatile application creators in the industry since one can handle every design process aspect.
Let's take a closer look at a full-stack developer career, what they are, what they do, and the best path for becoming one. If one is interested in a profession that challenges one's potential, tests one's problem-solving skills, and compensates for good hard work, then the full-stack development career may be the right thing. It's incredible how simple it is to embark on this rewarding path.
What makes a Full Stack Developer Career?
To best answer this question, one must explain what full-stack development is. Most applications consist of three parts or tiers- the front-end, which the user interacts with; the back-end, which provides the nuts and bolts for running the applications; and the database, which holds all of the application's needed information.
The IT job market has its share of front-end developers and back-end developer's positions, each dedicated to the design, construction, and implementation of their respective tier.
Responsibilities in a Full-stack developer career:
The previous section gave us a short, simple, answer to what a full-stack developer does. Here is a detailed breakdown of what a full-stack developer does:
Design user interfaces
Write code for the front-end and back-end
Build a necessary database
Configure servers to run both the back-end and the database
Maintain the code's integrity and organization in an ongoing capacity
Troubleshoot issues and solve problems that arise in any of the three tires
Full-stack developers may also be required to oversee a product development team and manage a project from start-to-finish or be expected to do the entire project by themselves.
The best path to a Full-stack Developer Career
The Ideal path to becoming a full-stack web developer depends on what skills and experience one already have under one's belt. Suppose one is entering the field of web development for the first time. In that case, whether it's because one's just graduated currently in a different field, then they need professional, hands-on experience. This process entails taking on a role as assistance to a full-stack web developer or gaining an internship.
So, to sum it up:
Graduate with a degree in Computer science
Gain real-life experience in full-stack web development by working or interning with an established professional.
Take online courses that teach the skills and tools needed for the position.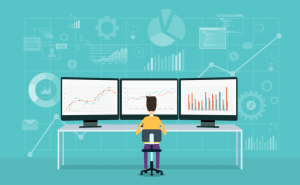 Conclusion:
Full-stack development mainly contributes to the ample opportunities for processing each project. The top full-stack development companies are hiring professional Full-Stack Developers with lucrative pay scales as well as multiple career advancement opportunities.