Key Features of HTML 5 over HTML 4
HTML 5 is the next revision of the HTML standards superseding HTML 4 HTML is a standard for structuring and presenting content on the World Wide Web. It is a cooperation between the World Wide Web consortium and web Hypertext Application Technology Working Group.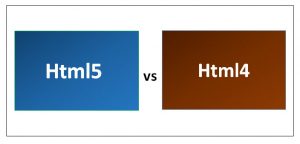 It is a new feature like video playback and drag-and-drop that have been previously dependent on third-party browser plug-ins such as Microsoft Silver light and Adobe Flash. HTML standards for Hypertext Markup Language and it are to use to develop the front site of website, where Hypertext means to the way in which Web pages are linked together.
This language is used to annotate (at the note for computer) text so that a machine can understand it and manipulate text accordingly. Most of the markup languages are human-readable. The language uses tags to define what manipulation has to be done on the text.
Key Differences between HTML 5 vs HTML 4:
Both HTML 5 vs HTML 4 are popular choices in the market; let us discuss some of the major difference:
HTML is still in the process of evolution and the currently available tags are beginning modified and also new tags are being added. Therefore, HTML 5 lags behind HTML 4 in terms of compatibility with the different browsers. HTML 4 is an established standard for developing browser applications and has been in use for more than 10 years. For this reason, HTML 4 is compatible with all web-browsers.
In Html 5, <a> this tag has been removed. A new <abbr> tag has been introduced. HTML 4 contained a <acronym> tag that was used for displaying abbreviations in a web browser.
In HTML 5 <meta> tag has been removed, <meta> tag is defined in the header section of the HTML document and contains information about the data. In HTML 4 this tag used to contain an attribute called schema that defined the schema of the document.
In HTML 5 <canvas> tag introduced, canvas is a rectangular area in HTML page. The <canvas> tag is used to draw graphics using JavaScript. It is a container for graphics. Inside this container, graphics are drawn using JavaScript. Canvas has different methods for boxes, paths, circles, characters, and adding images. By default, it has no content and no border.
The id attribute is used to refer to the canvas in the JavaScript and width and height are used to define the size of the canvas.
HTML 5 vs HTML 4 Comparison:
Below is the comparison between HTML 5 vs HTML 4.
HTML is an extension of HTML 4. It is the 5th version of HTML. Whereas HTML is the 4th
HTML 5 is very simple when compared to HTML 4.
HTML 5 provides consistency in malformed documents. It has better error handling. On the other hand, HTML 4 cannot do anything of these.
HTML 5 has new tags which were not present in HTML 4 like canvas, video, audio.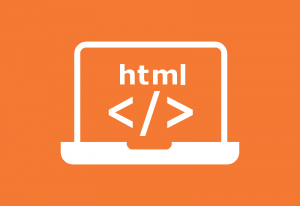 Conclusion:
As one got to know that HTML 5 is the advanced version of HTML 4, it has many new tags and features which were not present in HTML 4, on another side one can see that HTML 4 is more browser compatible compare to HTML 5. So the selection of versions will be done according to product development requirements.