Programming Languages for Front End Development
A front-end wen developer will need a specific set of tools. These are the languages one will need to know, some of them will enjoy learning.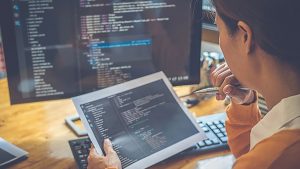 When it comes to finding the best front-end development language for one's website, choosing which of the different languages to choose can seem rather bewildering.
What is Front End Web Development Languages?
Front End languages are a programming language used by developers on the front-end of a site. This 'front end' is the external end of a site. This front-end is the external end of the site seen by the visitor. With different languages used front-end, the web developer's role would be able to create a theme in line with a set style of the site. These languages are installed so that the site can show the required material as intended to passing visitors.
HTML:
One is very much aware that HTML is not a programming language. It's a markup language. It has no particular programming logic, it can't carry out tasks, and it can't produce an output. Still, HTML is an essential starting point for front-end developers, so we'd be remiss not to include it.
            Why developers love it
HTML is also incredibly simple to learn. As an entry point to front-end development, it's all about as non-threatening as one can get. Almost anyone can pick up decent proficiency with the markup language in just a few days.
CSS:
It is a stylish markup to determine the appearance of HTML elements on a page. But again, it's an essential skill for front-end developers. HTML gives the structure of the site.
Without CSS, web pages would be unformatted blocks of text with some bold and italics here and there. CSS provides the visual spice that makes the web experience fun and memorable. And tools like Sass push the boundaries of CSS to give even more visual flair to sites. It might not be a programming language, but it is a great tool.
JavaScript:
Finally, An actual programming language in one's list of programming languages! If HTML determines how a site is structured and CSS determines how a site looks, JavaScript determines what it does. And like HTML and CSS, it's nearly imperative to know JavaScript as a front end development.
It runs the web. It is the only programming language web browsers can understand, so eventually, what happens on a website has to be powered by JS at some level. This ubiquity means that JavaScript is incredibly versatile.
It can be used on the front-end, on the back-end, for mobile apps, for the Internet of Things devices.
Ruby:
A caveat here: when working with Ruby on the front-end, one will actually be working with Ruby on Rails, a Ruby framework. As a programming language, it is simple, compact, and natural. It is readable and logical and helps speed up one's coding with its DRY.
Conclusion:
When it comes to choosing a front-end development language for next project. Whether it be JavaScript or CSS, to be truly successful and know which language works best.