Role of Full Stack Developer
A Full-stack developer is responsible for front-end and back-end web development. Usually, good full-stack developers will understand several things like how to work with several languages and databases including PHP, HTML, CSS, JavaScript, and everything in between.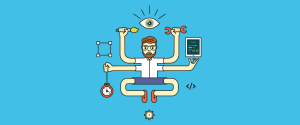 Writing a good job description for a full-stack developer will require one to understand the skills and responsibilities needed for the specific project and ongoing work.
Full-stack developers will be required to see out a project from conception to final product, requiring good organizational skills and attention to detail.
Full-stack Developer Responsibilities:
Developing front-end website architecture.
Designing user interactions on web pages.
Developing back-end website applications.
Creating servers and databases for functionality.
Ensuring responsiveness of applications.
Ensuring cross-platform optimization for mobile phones.
Working alongside graphic designers for web design features.
Seeing through a project from conception to finished product.
Designing and developing APIs.
Meeting both technical and consumer needs.
Staying abreast of developments in web applications and programming languages.
A Job of Constant Growth and Development:
One of the most exciting parts about being a full-stack developer is that one's day-to-day is constantly changing. That's because full-stack developers are essentially a jack of all trades, as one constantly jumps between front-end and back-end coding.
This role is perfectly suited for people that love to learn because it requires one to continuously update ones skill set and technical abilities. Staying up to date on new development tools, programming techniques, and industry trends is also part of the job.
Full-stack Developer Requirements:
Degree in Computer Science.
Strong organizational and project management skills.
Proficiency with fundamental front-end languages such as HTML, CSS, and JavaScript.
Familiarity with a JavaScript framework such as Angular JS, React, and Amber.
Proficiency with server-side languages such as Python, Ruby, Java, PHP, and .Net.
Familiarity with database technology such as MySQL, Oracle, and Mongo DB.
Excellent verbal communication skills.
Good problem-solving skills.
Attention to detail.
Full-stack Developer duties include:
Participating in the design and creation of scalable software.
Writing clean, functional code on the front and back-end.
Testing and fixing bugs or other coding issues.
Job brief:
As a full-stack developer, one should be comfortable around both front-end and back-end coding languages, development frameworks, and third-party libraries. One should also be a team player with a knack for visual design and utility.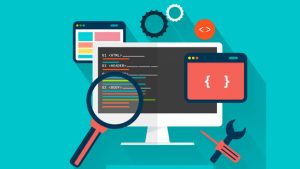 Conclusion:
To conclude, Full-stack Developers are highly skilled experts who can handle everything related to web development. These full-stack developer skills are what distinguishes them from front-end and back-end developers.