Skills required for becoming a Full Stack Developer
Categories

Python

Date

January 25, 2021
If there's one thing one can say about today's digital age, it's that there's a vast array of different careers to choose from. New innovations and developments give birth to an increasing number of positions to support them.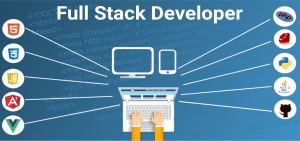 What is Full-Stack?
To the non-technically inclined, "Full Stack" may sound like someone's description of a large pile of pancakes. Although the term sounds like a delicious breakfast idea, the reality is a little less tasty. Full Stack is a term used to describe developers; though sometimes it's used in the context of engineers.
Crucial Full Stack Developer Skills:
A Full Stack developer boasts of a wide variety of skills. Here are Full Stack Developer skills that are non-negotiable.
JavaScript:
When it comes to web and software development, JavaScript is a mandatory Full Stack Developer skill. The object-oriented scripting language is mostly used languages for writing frontend and backend code for servers. Moreover, JavaScript is natively in the browser and on the server-side.
Full Stack Developers must have in-depth knowledge of JavaScript along with its concepts and features like React and Angular.
HTML/CSS:
HTML is used for adding web content, and CSS is a personalization tool for designing and styling a website. Both HTML and CSS determine the look and feel of a website, which ultimately plays a major role in attracting prospective customers.
Full Stack Developers have to work with HTML to define the structure of web pages by using markup. One must also be proficient in CSS for the effective presentation of the HTML elements.
Git and GitHub:
Every developer, as well as aspiring developers, has heard of Git. It is an open-source "distributed version control system" that can handle all your development needs. It promises speed and efficiency for both small and large-scale projects.
For Full Stack Developers, Git allows them to track every minor modification done to the application codebase. All the basics must be aware of all the basic Git commands with examples.
Backend languages:
The other pivotal part of an application or software is the backend. While backend development is a whole different game, there's plenty of programming languages to choose from.
Ruby: It is a robust programming language. An active community of developers backs it, but also boasts of excellent documentation and dependencies, making it the ideal choice for backend development.
Java: It is a multipurpose programming language that is used for web, desktop, and mobile application development. Plus, Java has a wide range of frameworks that further simplify the process of backend development.
Python: Python's smooth learning curve, easy syntax, and a vast assortment of libraries and frameworks are extremely popular among developers and coders around the world.
Database Storage:
A Database is a place where all the data is stored processed from there. All web applications need a database to ensure that developers can access data later. Database storage calls for experienced and skilled Full Stack Developers and database storage inside-out.
NPM:
NPM is the package manager explicitly designed for Node.js. It aids in the installation of different packages.It also offers relevant solutions for various dependencies. NPM allows developers to place modules optimally to help the node to find them and manage the dependency conflicts accordingly.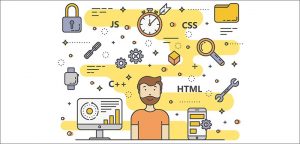 Conclusion:
To conclude, Full Stack Developers are highly skilled experts who can handle everything related to web development. These skills are what distinguish them from Frontend and Backend Developers.