Top Skills for a good Python Developer
Categories

Python

Date

July 18, 2020
Whenever you think of programming in python what makes one so deep into it. It requires only some good skills to conquer python and become a charm in it. The top vital skills required to become a good python developer are listed below in this blog. Hurry up! Scroll down to get them and get started to it.
Python is a general-purpose programming language that is often applied in scripting roles. It is an adaptable language with lots of opportunities ahead for us.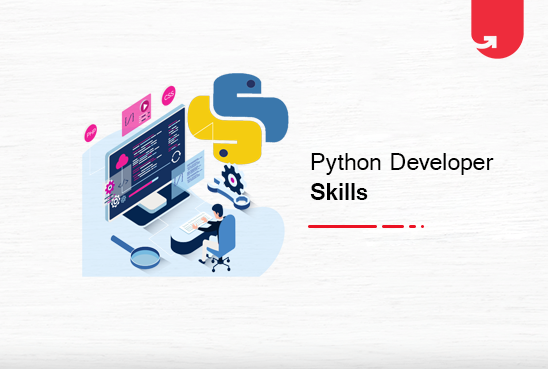 Vital skills to become a Pythonist.
Expertise in Core Python skills
The developer should have an ample knowledge in core python and know the concepts of core    python and its aspects are:
Generators
Data structures
Exception Handling
OOPs Concepts
Deep Learning skills
Deep Learning is also a branch of data science. One is expected to have a good understanding of the concepts in deep learning and Neural network architecture. Aspects of deep learning are:
Audio Processing
Video processing
Natural Language Processing
Artificial Intelligence and Machine Learning Skills
A developer in Data Science should have good knowledge about Artificial intelligence and Machine Learning as it comes under Data Science. One should have good proficiency in these algorithms to crack python codes and become a pro in it.
Skills of Data Scientist
A python developer can grow very much in the field of Data Science by having a good grasp in popular aspects of Data Science such as:
Analysis of data
Knowledge on SQL
Visualization of data
Knowledge on probability and statistics
Analytical skills
Analytical Skills all goes with web development and visualization of data which is very important in python. Optimization of algorithms while coding, writing clean code which is not redundant.
Design skills
A good developer should also have a good understanding of designs which will be helpful while designing the products. A python developer can use any python framework like Flask, Django to create a website. In this way, python will be able to work at both server-side and client-side.
Good debugging and Unit test skills
A developer should have good debugging skills and unit testing skills. They are majorly used to find the error and crack the code where required.
Database schema
If a developer can create schemes in the database, then he can support business processes and represent it in any platform the user wants.
Multiple Delivery Platforms
The difference between platforms should be known to a python developer to deliver the output perfectly. The output should also be optimized according to the target platform to match the requirements.
Logical Thinking Ability
Python developer is required to think logically, and the ability of good logical thinking should be the second nature of a developer to become a good developer in python language.
Summary
If you are reading this blog, most likely you have ambitions towards becoming a python developer. Here we have discussed the top skills required by a Python developer and we hope this article has been informative to you.