What is Front End Development?
Web development consists of two important parts and each of them requires different skills and knowledge of technologies. The Front-end developer deals with what the user interacts with and the  back-end is all that goes behind the scenes and makes it happen.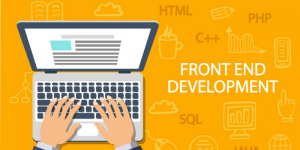 Front-end developers are responsible for implementing visual components on a website as well as interactive features like navigation, buttons, or anything that enhances overall usability. HTML, JavaScript, and CSS are often used to make sure that the visual side of a site runs smoothly so that users can interact freely and comfortably with it. Although some front-end developers handle web design, others work from web designer's mockups.
Some of the skills required for a front-end developer's job include:
A good grasp of front-end programming languages.
The ability to create a responsive design.
Knowledge of testing and debugging.
An understanding of front-end development tools and features like automation, content management systems, version control systems, APIs, and frameworks.
Front-end Developer Jobs:
Front-end jobs range from a developer who has mastered specific coding languages to those who possess a range of skills beyond the front-end. Since the front-end involves visual aesthetic, these jobs may also include graphic design and content. Many skills overlap between the different jobs, and specific titles may mean different things to each company.
Front-end Jobs:
Front-end developer
CSS/HTML Developer
Front-end Web Designer
Front-end SEO Expert
Full-stack Developer
UI Developer
HTML & CSS:
HTML (Hypertext Markup Language) and CSS (Cascading Style Sheets) are the most basic building blocks of web coding. Without these two things, one can't create a website design, and all end up with unformatted plain text on the screen.
JavaScript:
On the most basic level, Js is used to create and control things like maps that update in real-time. Sites like Pinterest use JavaScript heavily to make their user interface easy to use.
JQuery:
JQuery is a JavaScript library: a collection of plugins and extensions that makes developing with JavaScript faster and easier. Rather than having to code everything from scratch, jQuery lets a front-end web developer add ready-made elements to projects, then customize as necessary.
Responsibilities of a Front-end developer:
Prioritizing user experience
Bringing a concept to life with HTML, CSS, and JavaScript
Production and maintenance of websites and web application user interfaces
Creating tools that enhance interaction with the site in any browser
Implementing design for mobile sites
Maintaining software workflow management
Looking at SEO best practices
Testing the site for usable and fixing any bugs
Conclusion:
After breaking up into bits, it's quite fair to suggest Front-end web development as a needs evolution for today's web requirements. Modern apps and sires cannot afford to ignore this space at all and many companies with noticeable expertise in this field work out wonders with proper usage of frameworks.